We are continuously exploring new ways to treat water and waste water. By practical and scalable research we are able to develop new products and technologies to offer our clients added value. If we feel we can make a difference we invest in building prototypes and collaborate with our partners and clients to execute field trials. With the aim to verify our ideas and to create new applications and products.
If we envisage a new and interesting idea we typically build an appropriate prototype in order to investigate whether the idea is useful. We are collaborating with our partners and clients to make this work. Scalability is key to develop technologies which can be implemented in a wide range.
Any research starts with an idea. Either triggered by practical experience or by linking various technologies to meet an objective which is relevant for water and waste water treatment and optimization. The feasibility of each idea is studied prior to investing in practical research.
The economic potential, either expressed in investment savings or in operational expenditures and benefits, are the most important drivers for executing our research and development agenda. Together with our clients we may define these objectives in order to focus our activities.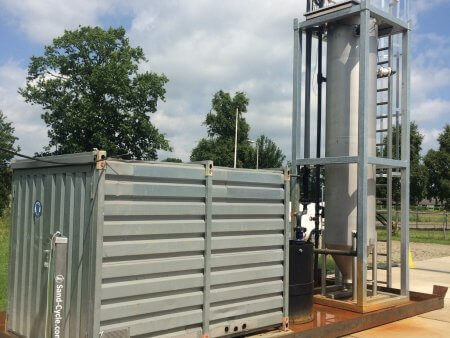 Pilot research has been initiated to support the basis of design for cloth filtration technology in both water and waste water applications. In water applications primary cloth filtration is useful for surface water treatment, and particular attention is paid to upfront coagulation and flocculation. In waste water applications tertiary cloth filtration is considered to meet very stringent phosphorus concentrations.

Removal of micropollutants from municipal waste water is considered to be crucial to protect our water bodies. Hence research is initiated to implement tertiary continuous granular activated carbon filtration. The core of the development is to simultaneously promote biological growth inside the reactor in order to remove organic matter. As a result the regeneration frequency of the granular activated carbon can be reduced. Testing the mechanism in an appropriate prototype will confirm the feasibility.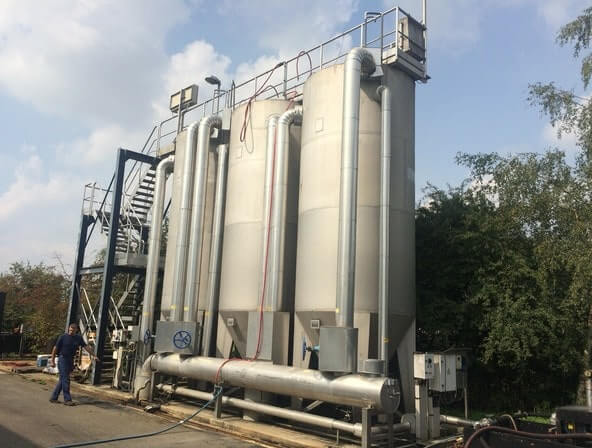 Salty water tertiary biological treatment
Tertiary removal of nitrate-nitrogen in salty waste water, using continuous filtration, is a technology which may be implemented in various applications, such as fish farming. With the aim to meet ever more stringent discharge criteria for total-nitrogen. Field trials have supported our design basis for the technology and can be used to make projections for any salty water denitrification application.
Micropollutant and phosphorus removal
Dedicated treatment systems for micropollutant removal, ranging from medicine residues in municipal waste water treatment plants to a wide spectrum of chemical substances, such as PFAS, aromatic carbons or TBT, is offered. The basis of design is either derived from results of reference plants or may be deducted from lab and field research. Either way an appropriate solution may be offered.
We are happy to collaborate with our clients to meet their objectives. And we highly appreciate their feedback!

We are operating a big tertiary filter plant consisting of 24 filter cells to remove nitrogen and phosphorus prior to effluent discharge. The plant is in operation since 2009, and in the beginning we tried to monitor the filters by using an ultrasonic sand circulation measurement tool. This did not work. After Brightwork implemented Sand-Cycle in 2016, this proved to be very useful in our day-to-day operations. We have managed to operate the filters in the most optimal way and we are very happy to use such a powerful tool.
Plant operator Wetterskip Fryslân WwTW Franeker

Both our waste water treatment plants Wijlre and Simpelveld use tertiary continuous sand filters to remove solids, nitrogen and phosphorus. In this way we manage to discharge good quality effluent onto our surface water bodies. With Brightwork's Sand-Cycle tool, implemented at both works we are better in control of our tertiary sand filters, enabling us to react pro-actively in case of any issues. It definitely contributes to a smooth day-to-day operation, while discharging good quality effluent.
Innovation manager
Waterschapsbedrijf Limburg
WwTWs Wijlre and Simpelveld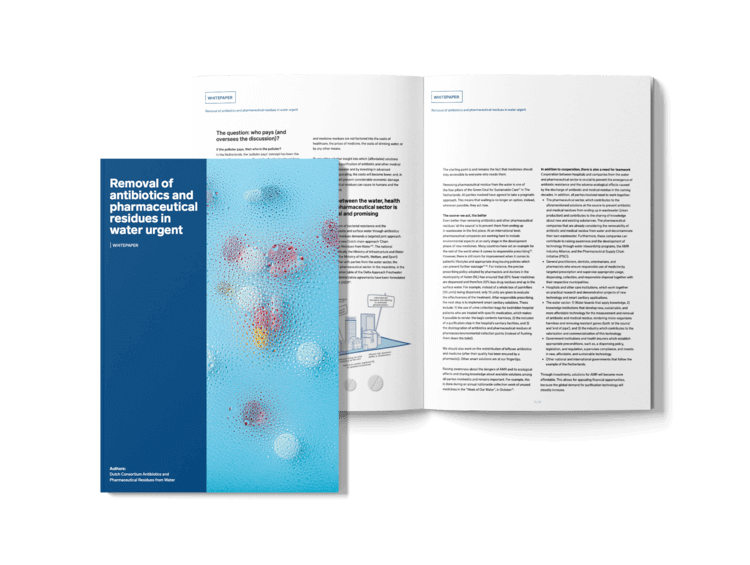 Would you like some further reading?
Please feel free to download this whitepaper ''Removal of Antibiotics and Pharmaceutical Residues in Water Urgent"