Tilted Plate Separation
Tilted plate lamella settlers are used for various settling applications, creating a large settling area at a small footprint. The technology may be combined with upfront controlled coagulation and flocculation to achieve a high settling performance.
The water to be treated is fed into the lamella plates at the lower end. While the feed water is flowing to the top of the TPS in between the plates the sludge is settling on the plates, sliding downwards and released at the bottom of the module. In order to prevent any interference between the settling sludge and the feed water a minimum free space below the module is taken into account.
The settled water is released at the top of the module; the settled sludge is collected in the sludge cones and discharged either by gravity or by sludge pumps.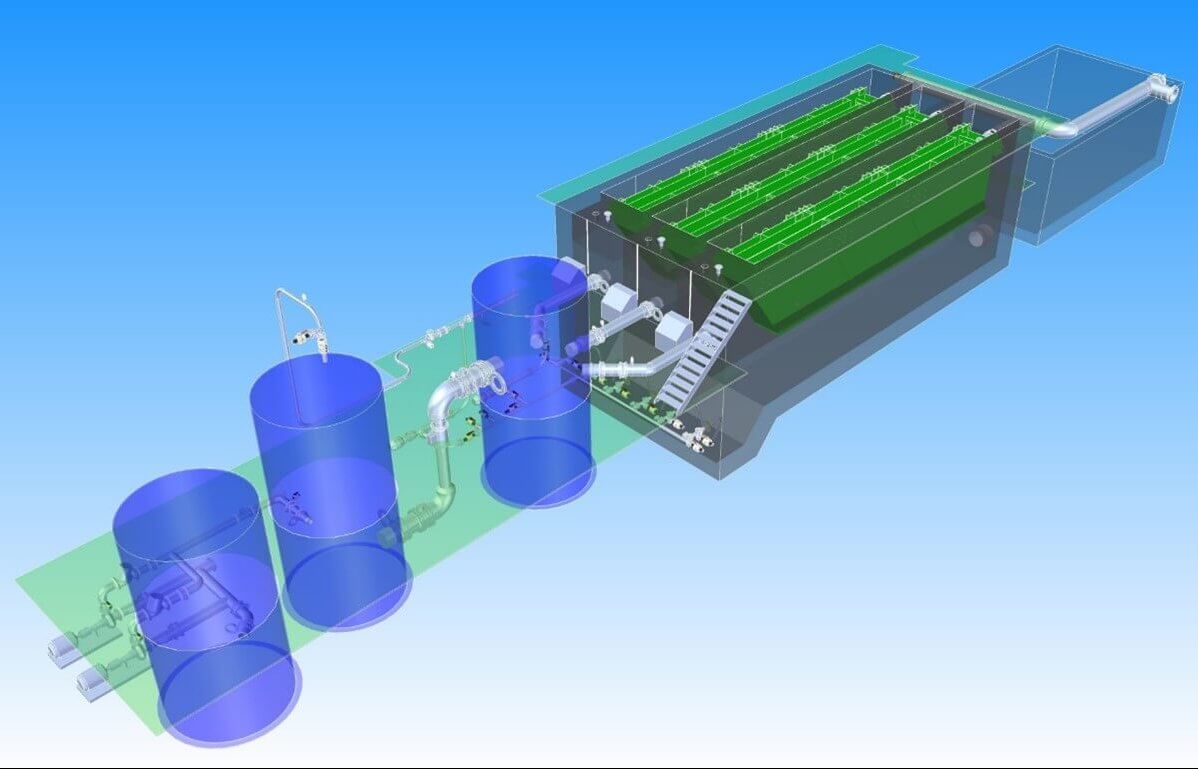 TPS Modules
Each settling area can be designed by an arrangement of a number of TPS modules. The optimum configuration will be determined on the basis of feed flow rate, solids concentration and density, settling rate, sludge volume and required effluent quality. An application questionnaire may be helpful for designing purposes. If appropriate dedicated settling tests may be useful.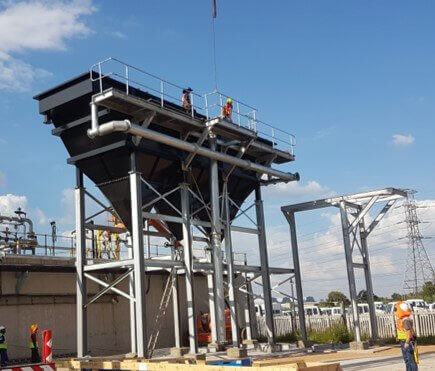 Benefits
– Reduced space requirements;
– Reduced total installation costs;
– Lower maintenance, virtually no wear and tear;
– Improved efficiency, no short-circuitin;
– No process impact due to wind currents.
Applications
– Waste water pre-settling of organic and inorganic solids; (primary settling)
– Waste water post-settling of organic and inorganic solids; (secondary settling)
– Wash water treatment in drinking and process water plants;
– Settling of surface water for process water production;
– Primary settling in the food industry (e.g. starch separation).
Features and module design
Counter current flow conditions;
Plate spacing: 50 – 100 mm, depending on sludge volume and settling rate;
Flat plates, easy to clean;
Plate length/width ratio > 2 to ensure homogeneous flow distribution;
Laminar plug flow conditions (Re < 250 and Fr > 10-5);
Welded polypropylene plate and frame construction, suitable for any medium;
Plate angle of 55o for fast removal of settled sludge;
Modules for both stand-alone tanks and for incorporation in (concrete) basins;
Module configuration for capacities from 5 m3/h up to 10,000 m3/h;